The wedding planning is really coming along. I talked to Meg for and hour and a half trying to put things in perspective; she is my bud. Since I am SO not a phone person, my right ear was all sweaty once we decided to hang up, LOL. Plus my voice cracked like a fourteen your old boy caught with his first Playboy in his lap-- since I'm alone most of the day, not used to talking very much. I dunno–I hate phones. I rather talk to you in person or email you. Is that sad?

I'm just weird.

Or normal.

I've just been making random things from Sculpey and sewing–that's about it. And cleaning. And learning how to fucking bake. LOL. Eh, that and watching CNN for future explosions. Sigh.

Look at this!! I make things. (Warning grainy picts)




And my wonderful shoes Chuck bought me just for the hell of it. I heart Mary Janes. Especially if they are Emily Strange.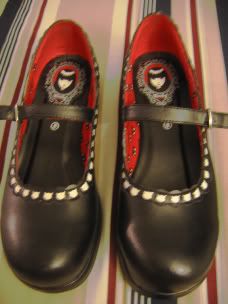 Not much of an update. Just been working on wedding stuff. Mmmm, now going to eat some brie.

Mmmm, brie and water wafers.